You can get in the reception room by going to the entrance hall, entering the left door and entering the first door. The reception room appears to be an ordinary room but there are some secrets in this room.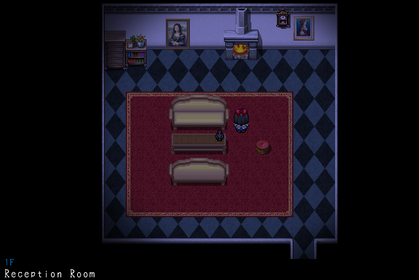 You can move the little cushion and put it in front of the drawer and get on the cushion to get a knife.
If you interact with the Mona lisa painting, a monster/zombie will jump on you and you have to rapidly press the Z key to survive. Once you did that, move the painting which will reveal a door to a garden. After that, you'll get a cutscene and if you have a wooden bucket, (Which you don't find in the garden) get some water and go back to the reception room. Then, put out the fire and you'll be able to enter inside the fire place. If you decide to enter, you'll hear a girl crying and if you have the eyeball bottle, give them to her and you'll get a gem. If you don't yet know, the crying girl is the eyeless girl you meet in the B1F hall.