Welcome
With 2 active users, we are currently maintaining 41 articles and 135 files, and you can help!
Welcome to the Mad Father Wiki, an unofficial wiki dedicated to the game Mad Father created by Sen. The goal of the wiki is not only to provide information on characters, but also the game in general—including a full walkthrough for the game, and details of each ending. Please feel free to help out the site by contributing and adding pages in order to make this wiki expand, but make sure you read the
Rules and Guidelines
before doing so.
Also check out the Misao Wiki for info on Sen's first game.
[WARNING: THIS WIKI CONTAINS SPOILERS!]
Mad Father is an indie game made within the Wolf RPG Editor by Sen (The Miscreant's Room). It is a game in which a young girl named Aya reminisces about her mother who died of sickness a few years previous. On the eve of her mother's death, when the sun has rested and the vengeful moonlight now rests on the old manor of the Drevis residence, she visits her father's laboratory and wishes to celebrate the day of her mother's death.
He agrees and dismisses her to bed. At the stroke of midnight, a scream originating from Aya's father pierces through the once silent house and fear rushes through the young girl as she discovers that corpses are loitering throughout her home. Will the dead that roam the manor engulf Aya? Will she cower and escape the mansion with the family assistant, Maria? Or will she carry on and save her father, realizing that she has made a drastic mistake that cannot be undone...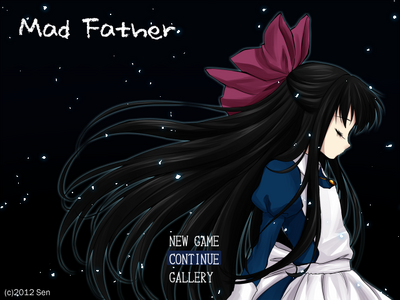 Related Sites